IfM Research Fellow Network
The internationally oriented IfM Research Fellow Network offers its members a platform for regular exchange on current research topics, the opportunity for guest residencies and research collaborations. The institute also provides access to scientific data.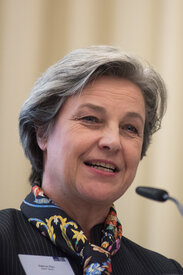 Prof. Sabine Rau
University of Ottawa, Canada und Université de Luxembourg / Chair of the Research council IfM Bonn
Research fields
Influence of the family on the innovation activity of the next generation
Values of entrepreneurial families
Intrapreneurship
Bio
Prof. Sabine Rau is a freelance consultant to international business families in Europe, the USA and Canada and in Arab countries. Between 2017 and 2021, she was partner of Peter May Family Business Consulting in Bonn, the leading consultancy for families-in-business in Germany. She holds a visiting professorship at ESMT, Berlin, and University of Ottawa, Canada, and teaches at the Université de Luxembourg and WHU, Vallendar, Germany. Until beginning of 2017, she was Professor of Entrepreneurship at King's College London. Before going back to academia again, Dr. Rau founded her own business before joining her family's business. She restarted her academic career as a Research Fellow at INSEAD in 2001. In 2003 Professor Rau took over the presidency of the international family business researchers, ifera (www.ifera.org) which she led until 2007. She serves on several boards as independent director such as the Aufsichtsrat of the Sacher-Group in Wien or in the Verwaltungsrat of Siegwerk, a hidden champion located in Siegburg, Germany.
Professor Rau has published in various journals such as Strategic Management Journal, Family Business Review, Journal of Business Research, Entrepreneurship, Theory & Practice, Small Business Economics, Entrepreneurship and Regional Development and others. She wrote one of the first textbooks on family business now published in the 3rd edition. She serves on the board of several academic journals.
Her research focus is on the influence of family onto the business and vice versa. Topics such as succession, governance, and family specific resources and its influence on performance are central to her research.