IfM Research Fellow Network
The internationally oriented IfM Research Fellow Network offers its members a platform for regular exchange on current research topics, the opportunity for guest residencies and research collaborations. The institute also provides access to scientific data.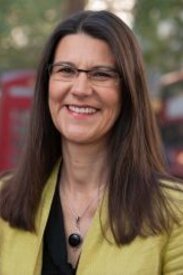 Prof. Ute Stephan
Kings College - King's Business School
Research fields
Well-being, Stress, Health
Social entrepreneurship, social firm goals and innovation, inclusive business
Comparative entrepreneurship, culture and institution
Bio
Ute Stephan is Professor of Entrepreneurship at King's Business School, King's College London, Transcampus Professor (Organizational Psychology) at TU Dresden, Germany, Honorary Professor at UCL's Department of Psychology and Aston Business School.
Ute is an elected Fellow of the International Association of Applied Psychology. From 2014 – 2019 she was Editor-in-Chief of Applied Psychology. She currently serves as Editor at Entrepreneurship Theory & Practice and Consulting Editor at the Journal of International Business Studies. Her research examines the well-being of entrepreneurs, sustainability and social entrepreneurship, and comparative entrepreneurship (culture and institutions).
Her work has been featured in the media (e.g., The Guardian, WIRED, Financial Times, Forbes, and Bloomberg), is published in leading academic journals, received numerous international awards, and attracted over GBP 3 million in funding (e.g., from the European Commission, the UK Government, UK research councils).
Ute currently heads a 30 country study on Entrepreneurship & Covid-19, and is a lead investigator of the 10-country SEFORIS project which stands for Social Enterprises as a Force for Inclusive and Innovative Societies, and its predecessor the SELUSI project. In the past, she led projects commissioned by UK Government Departments on social entrepreneurship and entrepreneurial aspirations. She is an elected board member of the GLOBE project (Global Leadership and Organizational Behavior Effectiveness project) and of the International Association of Applied Psychology.